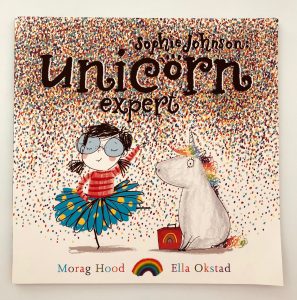 We LOVE Morag Hood (author of one of our favourite books ever), so when some friends gave this to Ivy as a gift we were really excited.
The story is about a little girl called Sophie, a self-proclaimed unicorn expert. She loves unicorns so much that she transforms all of her toys in to them using little horns attached to string, and then she teaches them all the things they need to know in order for them to reach their unicorn potential. Even her baby brother gets the unicorn treatment.
The humour arrives in the form of an actual unicorn with a real unicorn horn and a brightly-coloured rainbow mane, who somehow Sophie manages to miss completely. It's a visual joke – the real unicorn isn't mentioned in the text – so you'll probably need to point it out to to your toddler, but now Ivy is aware she searches for him on every page and yells unicorn (or Oonicorm as she pronounces it!) when she spots him.