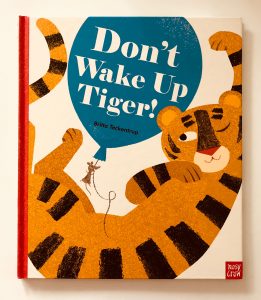 A small band of woodland animals are on their way to a party but they're in a hurry because they're running late. They're almost there when they come across a big sleeping tiger who is blocking their path. They need to get across him without waking him up – but how? With a cunning plan of course!
Fortunately they have lots of balloons for the party so they agree to take it in turns to float across the tiger holding on to a balloon. Your child is encouraged to help by doing things like blowing on the balloon to make it go faster and stroking the tiger's nose to keep him nice and sleepy.
Will their plan work and will they all make it to the party on time?
Britta Teckentrup's gorgeous illustrations are on point as always, and the simple story and gentle interactions make this a must for any toddler library. This is one of our favourites.
Buy it now: https://amzn.to/2HlhzsL