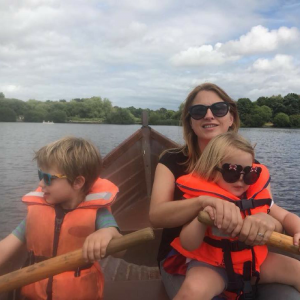 Tell us a little bit about yourself and your family
Hello, my name is Hannah. I'm a self confessed cappuccino  and Lotus biscuit addict, who could easily spend all day in a book shop if I wasn't quite so distracted by my 3 and 5 year old!  I own HVB Marketing. We are a business supporting (mostly amazing mum-lead) businesses with their online marketing, which predominantly focuses on Search and Social advertising.  Having worked in the online marketing space for years, most clients will dip into other areas of marketing knowledge along the way. I live and work in the leafy Surrey suburbs.
What are your children's favourite books?
My 3 year old daughter's book of the moment is 'Tiny Tantrum'' by Caroline Crowe. It's a story about a little girl who tantrums when she is asked to do something she doesn't enjoy,  like cleaning her teeth or eating broccoli. A purple, hairy monster and his friends give the girl a fright but then they give her some good advice  like doing bottom wiggles, flushing your tantrum down the loo and never sharing hiccups, pants or snot. The kind of advice that makes my daughter laugh out loud! In the end, Tiny Tantrum finds herself giving the monsters some advice too. I think my daughter really connects with the tragedy of having to put your coat on, wash your hair all those things mean mums like me insist on!
My 5 year old son's current favourite book is 'Mr Majeika'  by Humphrey Carpenter, mostly because he likes to hear all about Hamish, the boy who is not so well behaved! He also has a passion for all things magic so this fits the bill . Mr Majeika has images on every other page so it's a nice transition to longer books with fewer illustrations. There aren't too many stories out there about his other current passion, Ninjas!
Which book do you most like reading to them and why?
This is a tricky question as I'm not a huge fan of reading the same books on repeat! That said, a rather special one we borrowed pops to mind- 'Grandad's Island'  by Benji Davies. It's a lovely adventure story, that I didn't know at the time of reading, has a simple way of explaining how we can't always see those we've loved. My Dad, sadly no longer with us, was a big fan of boats. Imagining him going on a boating adventure, finding an amazing island and deciding to stay there felt rather nice. It's a lovely way to explain simply to my 3 and 5 year old where he might be. It's a bit of a tear jerker if you've lost a parent, but it's a simple story that can open a discussion into where our lost loved ones might be. At the same time, it's considerate of what stage of the child's understanding of life and death is.
What would you like to see more of in kids' books today?
I still think there is a long way to go before we regularly see diversity and equality in the majority of children's books. It would be nice not to have to search too hard for them. We'll get there eventually but I'd definitely like to see more of it.
What was your favourite book when you were a child?
I loved 'The Twits'. You can't beat a Roald Dahl book! I have fabulous memories of my parents reading me many of his books when I was younger. I was lucky enough to meet him once and he signed my book!
Do you have a favourite children's bookshop? 
Mostly we visit our local library to top up on unread books, but for something new or a little special I think Waterstones do a great job of recommendations and are very helpful if you ask. They have a lovely mix of children's books, toys and generally making the experience of a bookshop fun for kids. I always strive to support independent book shops, but they are getting harder to find!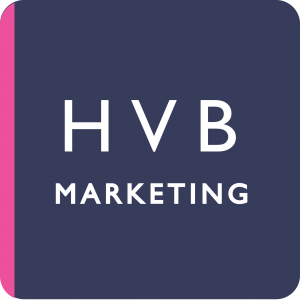 About HVB Marketing
HVB Marketing supports growing businesses with their digital marketing. Most have an idea of the direction they want to head in, but not all know how to get there on their own.  Having worked in digital for many years this is where I'm a useful contact to have – for tips, chitchat or to get in touch join me on Facebook – https://www.facebook.com/HVBMarketing/  or email me – [email protected]