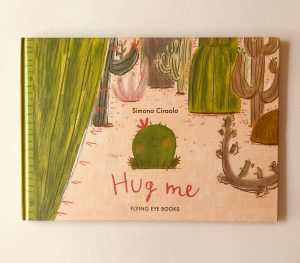 Poor Little Felipe. All he wants is a little hug but his family are far too prickly and aloof. They are very concerned with appearances and don't seem to notice that he needs some affection. It's a tough life being a little cactus with a big heart!
He tries to make friends with a balloon and at first this looks promising but when Felipe tries to get close the relationship ends with a POP. Ashamed, he decides to leave home and start life anew.
He settles in to life as a solitary cactus but then one day he hears someone sobbing. Can he make them feel better with a hug and if so is it possible they could be friends?
This is a beautiful story about how it feels to be different and how making new friends isn't always easy. The illustrations are captivating and Ivy is besotted with little Felipe. She particularly loves the montage of pictures at the end of the book which show (spoiler alert!) Felipe having fun with his new best friend Camilla (who is a little rock).
Buy it now: https://amzn.to/2krNuKv