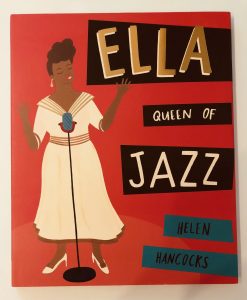 Until a few years ago I wasn't aware that Ella Fitzgerald and Marilyn Monroe had been friends and that without each other they may never have reached their true potential or become the icons they are today. It's a fantastic story and i'm so glad this book exists so that I can share it with Ivy.
The empowering tale starts with Ella Fitzgerald, a woman of colour with a truly amazing voice. She tours the country playing in small jazz clubs with her band but unfortunately there are many places where she isn't welcome. Because of the colour of her skin, many venues refuse to let her play, including the largest and most well-known club of all.
But unbeknown to Ella, she has a fan who is soon to become a friend. An actress called Marilyn Monroe loves Ella's music so she calls the club and says that if the owner books Ella to play for a week she will personally visit each night and sit in the front row, ensuring the paparazzi and press will be there. The owner agrees, Marilyn sticks to her word and Ella gets the opportunity to play to large audiences every night. She is a hit and becomes a huge star.
The two remain friends and when Ella gets the opportunity to help Marilyn in return, she jumps at the chance. She teaches Marilyn to sing which gives her career a massive boost and leads to her being invited to sing for the President.
This is a really inspiring story about friendship, racism, prejudice and how we can help each other overcome adversity.
Buy it now: https://amzn.to/2vtPiIv