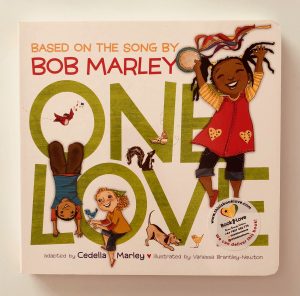 Adapted by his daughter Cedella, this beautiful little board book takes the lyrics of Bob Marley's much-loved song and makes them accessible to children. The song is about unity and brotherhood and we see this play out in the gorgeous illustrations which accompany the words.
At the start of the book we see a little girl playing with her friends in a green space which is overgrown and filled with rubbish. As we move through the pages we see the people of the culturally diverse neighbourhood come together and make plans for a park. All of the adults and children work hard to achieve this goal and everyone contributes something. They gather up rubbish, they rake the grass, and they bring flowers and seeds to plant borders.
By the final pages they have created an amazing community space filled with flowers, wildlife, balloons and bunting – and they have done it all by themselves.
A fantastic book to show your children that with love, kindness and hard work we can achieve amazing things together.
Buy it now: https://amzn.to/2Ou3Qja