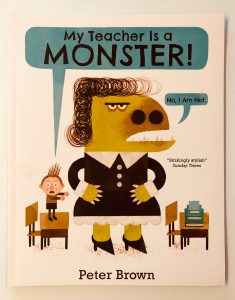 Two of my closest female friends are primary school teachers so when I spotted this I knew we had to buy it!
The story is about a little boy called Bobby who doesn't like school because he is always getting told off by his teacher, Miss Kirby. He doesn't like her and thinks she's a monster!
Then one weekend he bumps in to her when he's walking in his favourite park, and neither of them are quite sure what to do. They both feel a little awkward seeing each other outside of school. Just as it's becoming super uncomfortable a gust of wind catches Miss Kirby's favourite hat and blows it away.
Bobby manages to save the hat and in the process learns a little bit more about Miss Kirby and she learns a little bit more about him. Bobby comes to realise that she's not a monster at all. She's just a regular person – who is actually rather nice! – and just needs to be strict at school because it's her job (and because he's actually quite naughty).
This is a lovely story which shows children that people have many different aspects to who they are and that ultimately we're all human. It encourages you to stop and think about why people behave towards you in the way that they do.
Both Ivy and I love the illustrations in this one – but for very different reasons!
Ivy loves the 'scary monster' and points out the green skin, sharp teeth and claws (which she finds very funny juxtaposed with the dress and hat).
I love the illustrations because they show a very subtle progression as you move from page to page, which reflects what Bobby thinks of his teacher. At the start she has lots of 'monster' attributes but as you get further in these slowly disappear. She starts to lose her green hue and her claws and teeth become shorter and more rounded. By the time they are back in the classroom the following Monday Miss Kirby looks like a regular person – although she does still turn green on occasion!
But it now: https://amzn.to/2zdSMQu