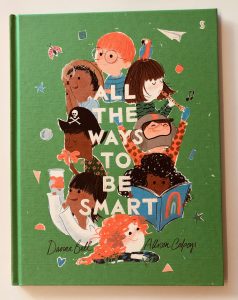 This gorgeous book takes a close look at what it means to be smart. Does it mean being good with letters and numbers and getting top marks at school – or could it be so much more than that?
With a gentle, lilting rhyme the author shows you that there are many, many different ways to be smart and that children do clever things all day long without even realising it. Some kids know lots about dinosaurs and some are excellent at making witches hats. Others show their smarts by being kind and compassionate when they see they someone else is feeling sad or shy. Your skill might be mixing coloured potions or being a mermaid or blowing bubbles. Whatever your talent is, it's important and it's special to you.
The story reassures that all kids are talented and that being 'school smart' isn't the be all and end all. We all have our own special skills which we use to make the world a better place every day – whether we realise it or not.
The illustrations are insanely beautiful, with bright glowing colours and a diverse cast of kids doing amazing things. Recommended!
Buy it now: https://amzn.to/2SY1vPC