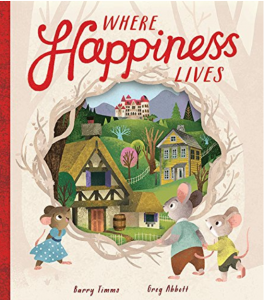 Since receiving this book earlier this summer I have recommended it countless times and purchased it as a gift twice so I figured I should probably write a review!
Grey Mouse has a beautiful little cottage which is filled with love. He doesn't have a lot of space or material wealth but he is warm, safe and happy. That is until the day he spots a big, spacious house with a grand balcony, and a tiny little bit of jealousy sets in. He presumes that the mouse who lives in this lovely property must be happier than him because he has a bigger house.
However, when he chats to White Mouse – the owner –  he learns of an even larger house which makes both of their homes seems tiny. Together they travel to this veritable mansion and a bejewelled Brown Mouse offers to give them a tour. There's a games room, a parlour, a music room and even an observatory. All of these riches make Grey Mouse and White Mouse extremely sad so they are shocked to discover that Brown Mouse is in fact very lonely.
Brown Mouse takes them to her observatory and trains her telescope on a house in the distance which she likes to watch because it is so wonderful. I won't spoil it by revealing whose home she covets but I think you can guess!
Most of us are guilty of wanting more than we need and this heartwarming story really puts that in to perspective. It teaches children that love, family and friends are more important than material things.
The gentle, lilting rhyme is perfect for reading aloud and I love the slightly vintage feel of the illustrations. Cleverly positioned cut outs and flaps add to the perfection. This one is now officially in our all-time top 10 (which is no mean feat given how many books we read!)
Buy it now: https://amzn.to/2MME4cK
Disclosure: The publisher gifted us a copy of this book at a showcase event we attended