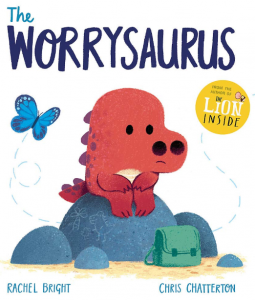 If you've been following Ivy's Library for a while you'll know I'm really passionate about books which help small children to understand and verbalise their feelings. I'm also a huge fan of author Rachel Bright, so when The Worrysaurus landed on our doorstep I was really excited. Ivy was instantly entranced by the title character – an adorable little red dinosaur with a tiny green backpack – and demanded we read it right away!
The Worrysaurus is a planner and a worrier (to be honest, he's a lot like me!). When he decides to go on a picnic he organises it all in his advance. He plans out a route, he packs all of the things he might need in to his trusty bag and then he heads out in to the sunshine.
However it's not long before his brain starts to itch. What if he didn't pack enough to drink? What if he gets lost on the way? Slowly his happy mood starts to slip away and anxiety creeps in. When a little lizard warns him that there might be a storm poor Worrysaurus starts to panic. He's not prepared for rain!