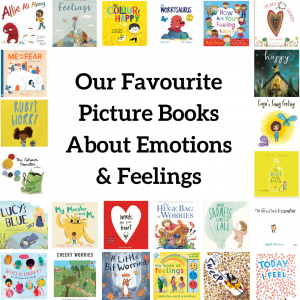 Saturday October 10th 2020 is World Mental Health Day so we thought we'd take the opportunity to share our favourite books which focus on understanding and managing emotions.
We recommend:
A Little Bit Worried by Ciara Gavin & Tim Warnes – This is the perfect picture book for children who have a tendency to be a little anxious. It teaches them that everyone gets worried sometimes, but if you  share your concerns with a friend or family member they will always be able to help you. Read the review.
Allie All Along by Sarah Lynne Reul – A fantastic book for helping children learn to manage their anger. The visual representation of the layers of emotion  works really well and the story offers up lots of useful tools to help children learn how to calm themselves down. Read the review
Cheeky Worries by Patrick Davey, Anna Smith, & Anne Wilson – This is such a simple book but it's extremely effective. Written by a psychologist and a psychiatrist, it breaks down the issue in terms which are easy for small children to understand and then gives them the tools to deal with their own fears. Read the review.
The Colour Monster by Anna Llenas – A clever book which equates emotions to colours and explains how you shouldn't bottle them up. Read the review
The Colour of Happy by Laura Baker & Angie Rozelaar – In this beautifully illustrated story we follow a small boy as he experiences a range of emotions during a short walk with his dog. Each double page spread features a different emotion and each emotion is represented by a colour to make it easy for small children to understand. Read the review.
Feelings by Libby Walden & Richard Jones – The gentle rhyme explores all of the emotions which your child may be experiencing and helps you to name them and understand how they feel inside. Read the review
Freya's Funny Feeling by Samia Quddus & Rahima Begum – This is a gorgeous book, which does a great job of explaining that uncomfortable nervous feeling of butterflies in your tummy  in a toddler-friendly way. Read the review.
The Grumpy Hamster by Sophie Johnson-Hill – This quirky story shows how bad moods and the grumps can spread from person to person – but how can you make this cycle of grouchiness stop? Read the review
Happy By Nicola Edwards & Katie Hickey – This lovely book about mindfulness encourages children to slow down and connect with the world around them. Read the review
The Heart And The Bottle by Oliver Jeffers – An uplifting story about love and loss, which looks at what can happen when you lock your emotions away rather than talk about them. Read the review
How Are You Feeling Today? by Molly Potter & Sarah Jennings – This practical book gives children (and parents) all the tools they need to handle big emotions. Review coming soon.
The Huge Bag of Worries by Virginia Ironside & Frank Rodgers – Jenny carries all of her worries around with her in a big blue bag – but who will help her when the bag becomes too heavy for her to bear? Review coming soon.
In My Heart by Jo Witek & Christine Roussey – Recommended to us by a child psychologist, this is an in-depth but age-appropriate look at the wide array of emotions which we experience as humans. Read the review
Lucy's Blue Day by Chris Duke & Federica Bartolini – A clever story featuring a little girl whose hair changes colour according to her mood. It's a really easy concept for toddlers to grasp and it teaches that your emotions change all the time and that's totally normal. Read the  review.
Me And My Fear by Francesca Sanna – The visual representation of fear in this book makes it so easy to explain and we love that it shows how everyone has vulnerabilities, no matter how tough or together they appear on the outside. Read the review
My Book Of Feelings by Nicola Edwards – This sturdy board book isdesigned to be enjoyed and explored by curious toddlers and it's a great introduction to the world of emotions. The spinner element is so much fun, making it a popular choice in our house. Read the review.
My Monster And Me by Nadiya Hussain & Ella Bailey – This book uses the metaphor of a monster, albeit a friendly yellow one, to help kids understand the concept of anxiety. Read the review.
Ruby's Worry by Tom Percival – Part of the bestselling Big Bright Feelings series, this story is about a little girl who finds a worry which starts to grow and interfere with her life. Review coming soon.
Sweep by Louise Greig & Júlia Sardà – This beautifully-illustrated book does a fantastic job of showing how moods can affect you and the people around you. The imagery makes it easy for kids to understand how quickly things can snowball if you sweep your emotions under the carpet. Read the review
Today I Feel…An Alphabet of Feelings by Madalena Moniz – The book is an alphabet of feelings, with each double page dedicated to one letter/emotion and a corresponding image. The range of emotions covered is really wide and the beautiful illustrations give a fantastic sense of how each one feels. Read the review
When Sadness Comes To Call by Eva Eland – This poignant and beautifully illustrated book does a wonderful job of showing children the transient nature of big emotions like sadness and why it is always best to address your feelings. Read the review.
Who Is Happy? by Jarvis – This interactive picture book invites children to guess how the characters are feeling based on their facial expressions and demeanour. Review coming soon
Words And Your Heart by Kate Jane Neal – The beautifully illustrated text talks about our words and the impact they have. Words are great for chatting with your friends and describing things you've seen and explaining how you feel but sometimes words can hurt. Read the review
The Worrysaurus by Rachel Bright & Chris Chatterton – Written in perfect rhyme with utterly charming illustrations, this is a wonderful book to set the minds of little worriers at ease. As the Worrysaurus works through his fears he shares lots of little tricks that he uses to make himself feel better. Read the review
Last year we were invited to talk about this topic on BBC Radio Newcastle! You can listen to what we had to say here: https://youtu.be/tipn96J1Gtg
We'd love to hear what you think of these books and what other titles you would add to the list. Let us know in the comments below!