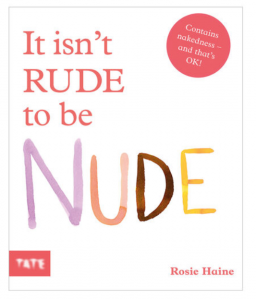 What's this? A book about nudity for kids? Surely that's a bit, well…weird?
In short – NOPE. I think it's fabulous and it's perfect for showing children that our bodies are wonderful things which need to be celebrated and looked after.
The text is minimal but the pictures speak volumes. The gorgeous illustrations show us bums and tummies both big and small. We see nipples in a wide range of hues and forms. There are pages on male and female genitalia, body hair (including ladies with underarm and leg hair) and certain skin conditions.
The characters are diverse and inclusive. They show us different races and ages and we also see characters with disabilites including a wheelchair user, a girl with a prosthetic leg, a man with one arm and a man with restricted growth. There are also people with scars and a lady who has had a breast removed.