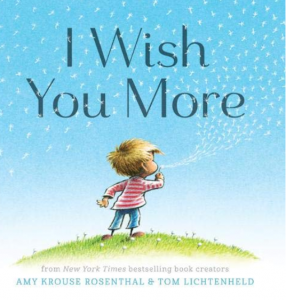 What wishes do you have for your child's future? I have far more than I could ever put into words, which is probably why I am drawn to this heartwarming picture book (and why it made me cry the first time I read it!).
A love letter from parent to child, the beautifully-illustrated pages outline a myriad of hopes and dreams. Unsurprisingly, the narrator wishes for health and happiness, joy and wonder but the clever word play injects an element of fun.
Ivy's favourite wishes are "I wish you more bubbles than bath" and "I wish you more WOO-HOO than WHOA!". Personally I am drawn to "I wish you more hugs than ughs" and "I wish you more stories than stars".