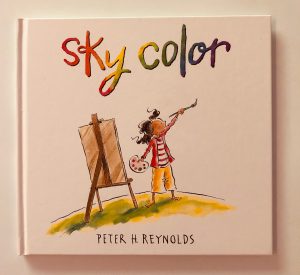 Marisol is an artist. She loves to paint and has a little art gallery at home where she displays all of her best work. She dresses how she thinks an artist should dress and she wants all of her friends to embrace their creativity too. If you're a fan of Peter H. Reynolds' books you may have already come across her as the encouraging little sister in fab story 'Ish'.
When Marisol's teacher announces that the class is going to create a huge mural for the school library she is very excited. She can't wait to get the paints out and get started! Together the class sketch out a giant picture and they each select a section to paint. Marisol excitedly declares that she will paint the sky.
But there's one problem – when she gets to the paint box there is no blue paint. Everyone knows the sky is blue, so what on earth is she going to do?
This adorable little story teaches your little ones to think outside of the box. There is always a solution to every problem – you just have to be a little bit creative!
We love the clever illustrations. The colours stray outside of the lines and there are lots of little scribbles and flourishes, showing your child that imperfect often has more character and is more aesthetically pleasing than perfect.
We also love how, despite Marisol's concerns and worries, there isn't a single blue sky depicted in any of the outside scenes. This prompted a little light bulb moment for Ivy when I pointed it out and she got very excited the first time she spotted a sunset after reading the book!
This book is part of a trilogy about creativity by Peter H. Reynolds, which also includes Ish and The Dot.
Buy it now: https://amzn.to/2Qz0fAD