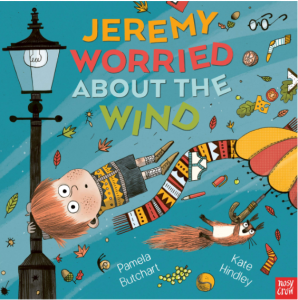 Hands up who has a little worrier? Both Ivy and I have a tendency to be a bit anxious and the current situation has definitely exacerbated this. Who knew there were so many things to stress about?
Jeremy knows all about worries. From morning till night all he can think about is the potential danger swirling all around him, from shoe-eating worms and too-crunchy crackers right through to runaway dinosaurs and evil squirrels. His biggest fear is the wind though – so he tries not go outside on blustery days just in case.
But then one day fastidious Jeremy meets Maggie. With mismatched clothing and trailing shoelaces, she seems an unlikely friend but the two hit it off straight away. Maggie's mantra is 'What's the worst that could happen?' and fearful Jeremy is determined to show her!