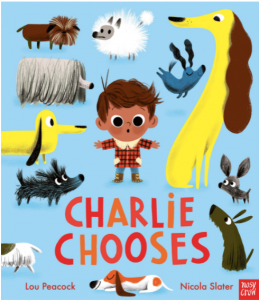 Charlie doesn't like to make decisions. How can you choose between chocolate and vanilla ice cream when both are so delicious? How can you choose between spotty or stripy underpants when both look so fabulous?
Every single day Charlie finds himself overwhelmed by choices and he finds it really hard. He worries that he will make the wrong decision and what the consequences of that might be. What if he chooses sunglasses instead of an umbrella and then it rains? What if he keeps his light on at bedtime but then he can't sleep?
All of Charlie's worries come to a head when he is asked to choose a present for his birthday. Faced with such a momentous decision he panics, but fate intervenes when a flyer about rescue dogs land on his lap at the park. However when he gets to the centre he is greeted by dozens of adorable dogs and he can only take one home! The boy knows he will never be able to choose so he turns around and sadly walks away.