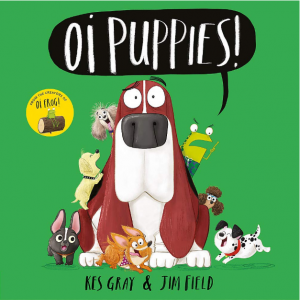 We are massive fans of this zany series so when the newest book – Oi Puppies! – arrived, Ivy was bouncing off the ceiling.
Frog, Dog and Cat are back to discuss the important issue of where everyone should sit, but this time they have a slight problem. Dog is babysitting a zillion puppies and they just won't behave. They clamber all over Dog, hang from Cat's whiskers and even start chewing on poor Frog's swimming trunks.
Something needs to be done, so Frog gets on the phone to the wonderfully named 'Oi Animal Seating Supply Co.' to try and arrange some suitable 'chairs'.
The big question is – can he get Blue, Cheeky, Flash, Lollie, Rebel, Scamp, Shep, Smudge, Spike, Spot, Tickle, Tiddle, Trixie, Trubble, Winnie to sit down? And what will they sit on?
We have all of the books in this series and love each and every one, but I think this is our favourite. Ivy thinks the puppies are adorable and they're so mischievously drawn that they practically bounce off the page. She is trying to learn each of their names and likes to guess what they might sit on before we get to the end of the book.
As always, Cat's dry humour is the standout feature for me. We see him being used as a climbing frame by multiple puppies and the look in his eye is one that every parent can relate to!
Buy it now: https://amzn.to/2pBWC4N
If you are not familiar with the other titles then make sure you check them out. There are 4 others – Oi Frog!, Oi Dog! Oi Cat! and Oi Duck-billed Platypus! (5 if you include the mini 'Oi Goat!' from World Book Day 2018)
Disclosure: The publisher provided us with a copy of this book in exchange for an honest review