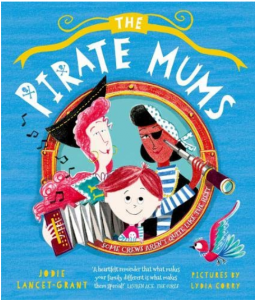 Here is another great pick for Pride Month – The Pirate Mums by Jodie Lancet-Grant and Lydia Corry. It's a swashbuckling adventure about pirates, the high seas and slightly embarrassing parents.
Billy's family is a little bit different and sometimes this can be hard. He worries a lot about what his friends might think and sometimes just wishes his parents were a tad more 'normal'. Why? Well his two mums have a penchant for all things piratey. They sing sea shanties all day long, they take their pet parrot for walks, they decorate the house with fishing nets and insist on using smelly old maps. They are SO EMBARRASSING!
When Billy's teacher announces that the class will be going on a trip to the seaside and taking a boat ride, naturally his mums volunteer to help. The little boy is mortified because he knows his friends will make fun of their pirate-led fashion sense and their fondness for words like matey, scallywag and buccaneer.