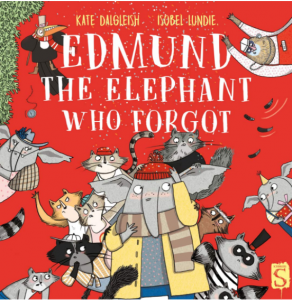 "Elephants never forget, but Edmund did forget… a lot."
Poor Edmund. Everyone knows that elephants have fantastic memories so he's very self-conscious about the fact he is a little forgetful. Fortunately his mum is on hand to help, teaching him songs and writing him lists to help him remember important things.
However today Edmund is a little stressed as he's been tasked with collecting some essentials for his brother's birthday party. As usual, Mum has written him a list but Edmund has accidentally left it behind! Edmund panics but then he hears the voice of his friend Colin the Caterpillar. Colin knows what was on the list so as they approach the Party Shop he shouts out each item to Edmund.
The trouble is, Colin's voice is very quiet, and Edmund's hearing is just as bad as his memory. Twenty pointy party hats become seven sassy dancing cats and a cake with napkins and party plates translates as three chimpanzees on roller skates. Soon Edmund's little yellow shopping trolley is piled high with a menagerie of energetic wild animals.
Edmund is very proud of himself – but what will his mum and brother say when he brings all of the 'shopping' home?
This story is so much fun and Ivy absolutely loved it. Edmund is a really cute and loveable character and his many mishaps have her laughing out loud every time we read it. The illustrations are packed with detail and Ivy likes to try and find little Colin the Caterpillar, who is hidden away on every page.
As well as being super entertaining, the book also offers up lots of opportunity for learning. There's a simple little rhyme repeated throughout, which is easy for little ones to anticipate and recite. You can count the animals and try to guess what the upcoming rhyme might be, and some of the creatures included are on the more unusual side (baboons, racoons, toucans..) so may be new to your child.
Want more Edmund? Read our Q&A with the author and download the step-by-step guide on how to draw the forgetful Elephant.
Buy from Bookshop.org and support independent bookshops: https://uk.bookshop.org/a/155/9781913337391
Buy from Amazon UK: https://amzn.to/3cNpjC5
Note these are affiliate links and Ivy's Library will receive a small commission if you choose to purchase through them.
Disclosure: The publisher provided us with a copy of this book in exchange for an honest review.