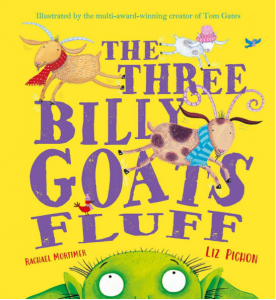 Ivy really enjoys traditional fairy tales so I love it when we discover alternate versions with interesting twists! This new take on 'The Three Billy Goats Gruff' had her giggling from start to finish.
When Mr Troll moves in to a brand new pad he's looking forward to some luxury living, but instead he finds himself under a bridge frequented by a very noisy family of goats – the eponymous Billy Goats Fluff. The trip-trapping of their hooves keeps him awake 24/7, leaving him sleep-deprived and very, very grumpy.
He puts up a carefully worded sign but this doesn't work so he soon finds himself shouting at the goats and threatening to eat them unless they stop waking him up. The three little billy goats are scared so they head home to tell their mum all about the nasty old troll.