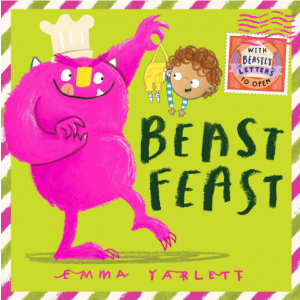 When a bright pink Beast catches a little boy he is very excited about the prospect of eating him all up. He names the boy 'Dinner' and sets about inviting all of his friends to a very special feast.
Naturally Dinner is a little worried, but when the RSVPs start to arrive he proves himself to be very smart indeed.
The Beasts friends turn out to be very picky and they have lots of dietary requirements which they want Beast to consider. Sir Gutguzzler can't eat anything scrawny so he suggests that Beast fatten Dinner up a little bit. Madam Gargoyle requests that Dinner is served extra salty and Giant Grumbo needs Dinner to be slimy!
As each random request rolls in, Dinner comes up with a fun suggestion. Instead of covering him in salt perhaps they could go swimming in the sea together? And to make him slimy, perhaps they could visit the super fast slide at the swamp?
Soon Beast realises that spending time with Dinner is incredibly fun. In fact, he doesn't want to eat him after all. But if he can't serve Dinner, then what is he going to feed his friends at the feast?
This is a gorgeous book with lots of little letters for your little one to explore. I love the fact that the letters are attached and just need to be unfolded, as this eliminates the possibility of them getting lost!
Ivy has a slightly dark sense of humour so she loved squealing at the possibility the little boy might get eaten. She is also fascinated by all the 'monster recipes' which can be found inside the cover. Her favourite is Fingernails & Chips with Mushy Toes!
Buy from Bookshop.org and support independent bookshops: https://uk.bookshop.org/a/155/9781406386639
Buy from Amazon UK: https://amzn.to/2XzeyKo
Note these are affiliate links and Ivy's Library will receive a small commission if you choose to purchase through them.
Disclosure: The publisher submitted a copy of this book for consideration as part of the Read with River #findmestories_bestof2019 project. You can read more about this here.