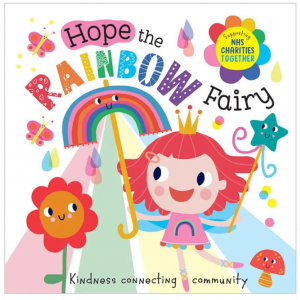 Inspired by the rainbow art which children have been displaying in their windows during the current situation, this story is all about connecting communities with kindness.
Hope is a Rainbow Fairy and it's her job to spread colour and joy around Fairyland. She loves to wave her magic wand and make her fellow fairies smile with bright yellow sunshine and vivid green trees, but then everything changes when Fairy Flu hits and everyone has to stay indoors.
Hope starts to worry that, without her, the land will be colourless and everyone will be sad. In a bid to cheer people up, she tries sending rainbow lollies to her friends in the mail but they melt en route and when she sets up a colourful quiz online the 'Wi-Fly' cuts out. She even tries to magic the Fairy Flu away but her powers just aren't strong enough.