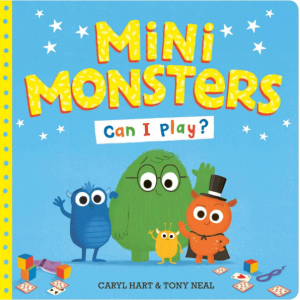 We recently interviewed the author about the inspiration behind this book. You can read what she had to say by clicking here.
Scout, Sparkle, Arthur and Tiny are four colourful little monsters who go to pre-school together. They are all friends but sometimes – like most children – they find the politics of playtime somewhat difficult to navigate.
When Arthur and Sparkle put on a pretend magic show Scout really wants to join in. The problem is that Sparkle doesn't want him to get involved. It's her show, she's the star and she only wants Arthur in the audience. There is shouting and snatching and eventually there are tears. As Scout and Arthur retreat outside to find a new game Sparkle finds herself all alone. Even Tiny doesn't want to play with her now.
Sparkle realises that she needs to do something to bring her friends together again – but what?
This brightly coloured picture book is perfect for children who are just starting school, pre-school or nursery because it teaches a valuable lesson about friendship, saying sorry and learning to get along with others. The loveable characters and eyecatching illustrations really drew Ivy in to the story and we have read it many times at her request.
As a parent I love how it has encouraged Ivy to talk about squabbles she and her friends have had in the classroom and as a result we have had lots of little chats about how to handle the big feelings which come with these encounters.
Buy it now: https://amzn.to/2UnarRa
Disclosure: The publisher provided us with a copy of this book in exchange for an honest review.