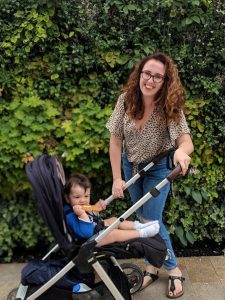 Tell us a little bit about yourself and your family
My name's Hannah and my little passion project is Tilly Hobbs & Co – an insta blog where I sell Manchester themed muslin cloths and document me guessing my way through motherhood ha in our glorious city. I have one little girl called Cora, she's my little livewire, I'm obsessed!
What is your daughter's favourite book?
Now this does vary from day to night. Our daytime favourite has to be The President's Cat by Peter Donnelly – it's a lovely, lovely story about the President of Ireland leaving his cat behind when he comes home after a holiday in Kerry. Cora loves pointing out the cat on his little journey, the horse poo on one of the pages and the many, many cars and buses on a page featuring Dublin city centre. Reading that backward sounds insane, please go and read it ha! The illustrations are like food for my eyes.