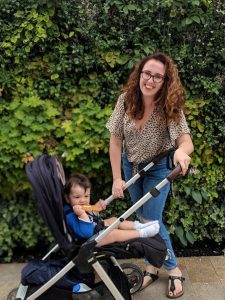 Tell us a little bit about yourself and your family
My name's Hannah and my little passion project is Tilly Hobbs & Co – an insta blog where I sell Manchester themed muslin cloths and document me guessing my way through motherhood ha in our glorious city. I have one little girl called Cora, she's my little livewire, I'm obsessed!
What is your daughter's favourite book?
Now this does vary from day to night. Our daytime favourite has to be The President's Cat by Peter Donnelly – it's a lovely, lovely story about the President of Ireland leaving his cat behind when he comes home after a holiday in Kerry. Cora loves pointing out the cat on his little journey, the horse poo on one of the pages and the many, many cars and buses on a page featuring Dublin city centre. Reading that backward sounds insane, please go and read it ha! The illustrations are like food for my eyes.
Which book do you most like reading to her?
The Goodnight Train by June Sobel – this is our night time book, purchased during a panic that this girl would JUST NOT WIND DOWN IN THE EVENING! After extensive research I bought this and a few others and Cora just fell in love. I had planned to switch up the books each night but honestly, we've read this every night since. It's a slow paced book about what can only be described as a problematic train journey, where lots of children hop on with their blankets and teddies and swiftly nod off. Whatever floats your boat little C, I won't do any spoilers but the book ends saying "Goodnight train" and then I go "Goodnight Cora" which she LOVES. The poor girl is going to grow up thinking she had endless personalised books ha!
What was your favourite book when you were a child?
Dog Powder by Mary Hoffman – I have read that book to tatters! It's about a little boy who wants a dog so badly but he lives in a high rise flat. He goes to this weird shop that seems to have everything and the man gives him some dog powder – you shake it and a dog appears! I used to be really allergic to so many animals so I was in a similar situation to poor Colin, all I wanted in life was a Labrador! The illustrations are odd, I spent so long just staring at each page.
What do you look for when shopping for a new book for your daughter?
A strong female lead! Books with a subtle message and lovely colours. Knowing Cora I'll have to read them repeatedly so there has to be something in there for me ha!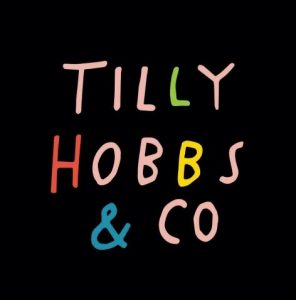 About Tilly Hobbs & Co
Tilly Hobbs & Co – dreaming of, designing and printing Manchester themed muslin cloths whilst also creating a safe space and community on our socials for parents who get up, mess up and shake it off!
www.instagram.com/tillyhobbsandco