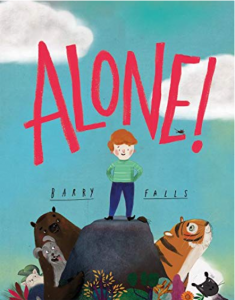 On the edge of a busy, bustling town is a hill with a little house on top. This is the home of Billy McGill, a solitary child who avoids people and noise. He enjoys his own company and spends his days alone with his books for company, until one day he hears the squeak of a mouse…
Billy definitely doesn't want to share his house with the tiny furry creature so he heads into town to fetch a cat to scare away the mouse. This seems like a great idea, until the two animals unexpectedly become friends. Billy then finds a dog to scare the cat, but this doesn't work either. The boy's plan soon spirals out of control and he soon finds himself co-habiting with a mouse, a cat, a dog, a bear, a tiger, a vet, a sheep, a hairdresser, a baby and a big red balloon!
Overwhelmed by the noise and the chaos, Billy storms out of his house and finds a new hill, but as he stares into the sunset he finds himself thinking of everything he has left behind. Could he be ready to let some new friends into his life?