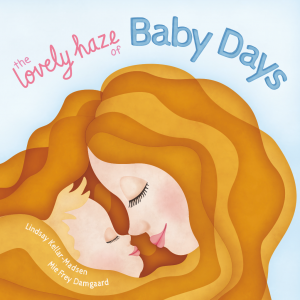 Those early days of motherhood are tough. The lack of sleep, the fear of getting it wrong and the utter shock that you are now responsible for the life of a tiny human is a potent cocktail which can you leave you feeling like you're losing your mind.
When Ivy was tiny I used books as a way of bonding and calming my thoughts. We'd snuggle on the sofa, surrounded by a whirlwind of mess, and let the words wash over us both. It didn't matter what I read – sometimes it was a picture book and sometimes it was a magazine or the novel I was reading – but the result was always the same. Ivy would listen to my voice (and inevitably fall asleep) and I would feel like I had been reset, ready to face whatever the next challenge of the day might be.
So when I received this stunning book in the post my immediate thought was 'I wish this had existed five years ago'.  'The Lovely Haze of Baby Days' is a sturdy board book designed for babies, but the core of the story is the importance of maternal mental health.
Written in tight rhyme, it shows a diverse group of mums as they move through the first year of their child's life. We see mess, tears, fear,  sleepless nights, mounds of laundry and my personal favourite – the unsolicited advice from strangers! Every emotion I felt as a new mum is beautifully depicted, but what stands out is the overwhelming love which emanates from the pages. Those early months are hard but it's the love which gets you through. The cuddles, the smiles, the little milestones and the strength and friendship you find in other women.
This would make such a beautiful and throughtful gift for a new mum because it works on two levels. The rhyming text and gorgeous illustrations are soothing for baby, and the core message will help women 'in the trenches' of early motherhood feel seen and less alone.
As you've probably guessed i'm a big fan of this one and I highly recommend it. Beautiful!
Buy it now: https://www.lindsaykmadsen.com/shop
Disclosure: The author provided me with a copy of this book in exchange for an honest review.