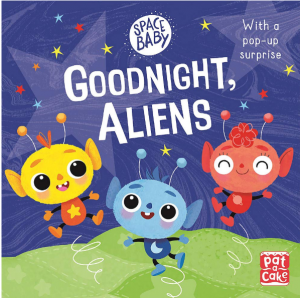 This adorable little board book from Pat-a-Cake follows a family of aliens as they move through their bedtime routine. We see the three baby aliens playing with their toys, eating their dinner, having a bath, listening to a bedtime story and then snuggling up to sleep.
The rhyming text is short and repetitive which gives it a lovely sing-song feel. It's a soothing read for babies, and toddlers will love memorising and repeating the lines back to you.
The colourful illustrations are super cute and there's the added bonus of a pop up surprise on the very last page.