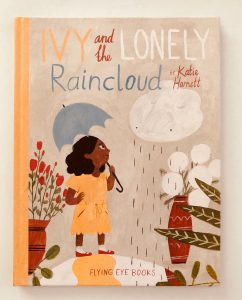 I definitely didn't buy this one just because the little girl in it is called Ivy. Ok – maybe I did! But it turned out to be a good gamble as it's a really lovely book with gorgeous illustrations.
The story starts with a little raincloud who is feeling lonely. The sun has come out so all his friends have gone away and he has no one to talk to. He sets off in search of a friend but no one seems to want him (and his raindrops) around.
He keeps searching until he spots a little girl who looks just as unhappy about the sunshine as he is. She's grumpy in the market, grumpy on the tube and even grumpy when she gets home and tends to her garden. He starts to think that maybe the little girl is not really grumpy, just sad. He watches her in fascination as she looks after her plants, which seem to be struggling in the sun, and then he has an idea. If he rains on the plants and makes them grow, is it possible the little girl might smile again?