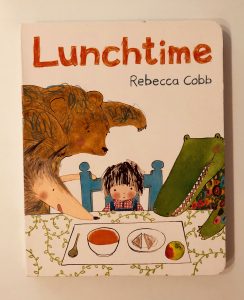 This beautifully illustrated book by Rebecca Cobb is perfect for all of you parents out there who (like us!) struggle to get your child interested in sitting down and eating their meals.
The little girl in the story is very busy painting and playing with her toys, so when her mums calls her to tell her that lunch is ready she really doesn't want to go and eat. She's having far too much fun to stop for boring old food! Reluctantly she leaves what she's doing and sits and stares at her lunch, looking grumpy, without eating a bite.
But then she spots a crocodile under the table. Then a bear. Then a wolf. The three fierce animals are VERY interested in her lunch, explaining that her soup, apple and sandwich are much more tasty than little children (who actually taste pretty disgusting). They gobble up her lunch and then thank her heartily for the lovely meal.
When her mum sees the empty bowl and plate she is very happy and the little girl skips off to play. But then her tummy gets very noisy because she hasn't had anything to eat at all.
What will happen when her mummy says dinner is ready?
We are huge fans of Rebecca Cobb's illustrations and I think we have every book she's been involved in! The images capture childhood perfectly and the simple story about a very familiar situation is super sweet.
Buy it now: https://amzn.to/2LGIgXd