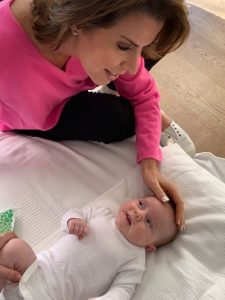 Tell us a little bit about yourself and your family
My name is Natasha Kaplinsky. For many years I have anchored news for the BBC, Sky and ITV. I am also a very active Ambassador for Save the Children. Through my travels with Save the Children I was inspired to work more with mothers and babies and so two years ago I co-founded a company called Mum & You.   We live on a farm in Sussex with our two children and our 47 pets!
What are your children's favourite books?
Our kids love reading so it's hard to name a particular author or a book. Now that they are 8 and 10, when they get into a particular author, I bulk buy all the books in that series – just to keep them reading. I have always said to the kids that they can beg all they like for random bits and pieces, but I will never say no if they ask for a new book.