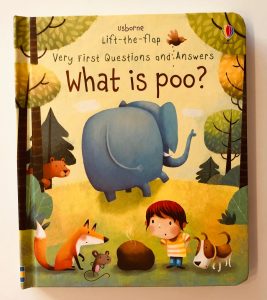 When you have a baby you seem to spend most of your time talking about or dealing with poop, then just when you think you're done, your toddler suddenly develops a fascination with what it is and where it comes from. Sigh!
If you're getting lots of questions about poop or having problems potty training then this fab little book from Usborne might be what you're looking for. It's full of fun facts and lift-the-flap sections to entertain and educate curious little minds.
What is poo made of? Does everyone poo? How much poo does an elephant do? Where does it go when you flush the loo? What kind of animal has spotty poo and whose poo looks like toffee?