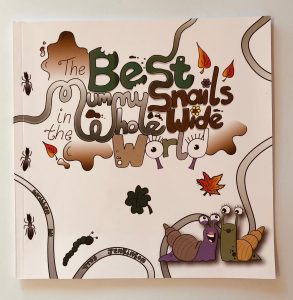 Felicity and Jane are two African snails who are very much in love. The pair are inseparable and are looking forward to spending their lives together. Then something very special happens – Felicity finds out that she is going to have a little baby snail. She can't wait to tell Jane, but when she does it turns out that Jane also has some special news, as she is pregnant too. They are going to be a family and are very excited!
The two expectant mums work hard to create the perfect egg chamber for their new arrivals and then together they lay their eggs and wait. It's not long before the tiny snails start to hatch and soon Felicity and Jane are the proudest mums on the planet. 
This lovely tale is perfect for introducing and normalising same-sex relationships to small children and a nice way to start a discussion about how every family is different but yet the same. Ivy (3) is fascinated by Felicity and Jane and doesn't question the fact there are two mummies – although i'm sure it won't be long until she starts to wonder about this. She did however declare the story 'crazy' because it shows one of the snails brushing their teeth!
Written by Troy Jenkinson, a School Leader and Primary School Head,  the accompanying website features lots of resources to use with readers in key stages 1 and 2 including a great pdf of suggested activities
Buy it now: https://amzn.to/2TBn60a
Disclosure: The author provided us with a copy of this book in exchange for an honest review