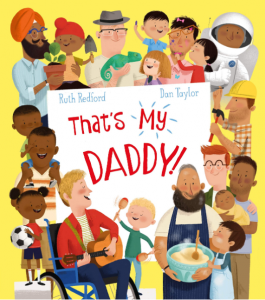 This diverse and inclusive picture book encourages children to think about all the things which makes their dad unique.
Is your dad grumpy in the mornings? Does he have big feet? What colour is his hair? Does he give you a bath? What fun things do you do together? How does he get to work? Every page poses a question and then the lovely illustrations give your child lots of options to choose from.
The book features a huge variety of different father figures. There are dads from different cultures and races, dads in wheelchairs, dads in glasses, gay dads, beardy dads and tattooed dads. There's even a dad with a blue mohican!