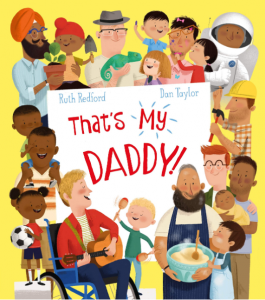 This diverse and inclusive picture book encourages children to think about all the things which makes their dad unique.
Is your dad grumpy in the mornings? Does he have big feet? What colour is his hair? Does he give you a bath? What fun things do you do together? How does he get to work? Every page poses a question and then the lovely illustrations give your child lots of options to choose from.
The book features a huge variety of different father figures. There are dads from different cultures and races, dads in wheelchairs, dads in glasses, gay dads, beardy dads and tattooed dads. There's even a dad with a blue mohican!
We also see dads performing roles outside of the 'traditional' jobs you often see in children's books. There are singing dads, painting dads, baking dads and stay at home dads mixed in with the astronauts, builders, businessmen and firefighters. There's even a whole double page spread dedicated to which household chores your dad does.
Ivy and I love the interactive format of this book and it's prompted lots of fun conversations about Ivy's dad and how special he is. It's also a great springboard for discussion around the fact that all families are different.
Buy from Bookshop.org and support independent bookshops: https://uk.bookshop.org/a/155/9781405292429
Buy from Amazon UK: https://amzn.to/3hjWflZ
Note these are affiliate links and Ivy's Library will receive a small commission if you choose to purchase through them.
Disclosure: The publisher provided us with a copy of this book in exchange for an honest review