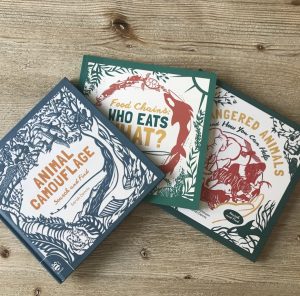 Sarah Dennis is an award-winning paper artist and illustrator whose work combines traditional paper-cutting techniques with collage. An extraordinary artistic talent, Sarah has previously worked with BBC Four, Tatler, The Guardian and Gosh Arts.
Since 2015, Sarah has teamed up with small-but-mighty UK children's publisher b small publishing to create a series of beautifully intricate search and find books – ANIMAL CAMOUFLAGE, FOOD CHAINS: WHO EATS WHAT? and ENDANGERED ANIMALS. Alongside Sarah's illustrations, these three books contain essential facts and knowledge about animals, the environment, and the beautiful natural world around us.
Here, Sarah tells us a little about the process behind her work!
How the process works
Firstly, I create all the individual animal images for each spread along with some ideas for the environment. I then loosely map out the composition. Once I have that guide and I'm happy with how the overall image will look I send it to b small. When everyone is happy, I start drawing the design into a really detailed pencil sketch and begin to execute it in my paper cut style.
For the first book in the series, Animal Camouflage, I cut every scene by hand, making sure I didn't make any mistakes (!) I have been cutting for many years now so I'm pretty good at making sure that doesn't happen, but of course sometimes there are occasional slips. It can normally be fixed with a bit of glue and a sneaky bit of photoshop to mask any imperfections. The images were carefully put together and we agreed on the design before I started cutting so we didn't need to add or remove much after. I also used the computer to balance the colour to ensure consistency throughout the book.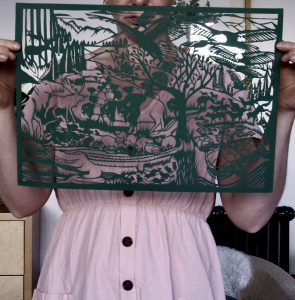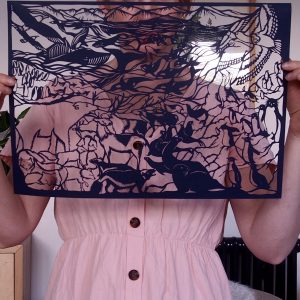 For the Food Chains: Who Eats What? And Endangered Animals, I actually created all the artwork digitally, so instead of cutting out each shape with a craft knife on paper I did it with my Wacom on a digital canvas. I did a number of tests to make sure the aesthetic was not compromised in any way and it optimised the whole process so that we could meet tight deadlines without having to rush anything.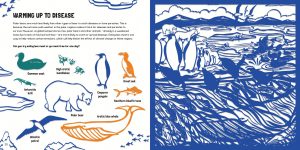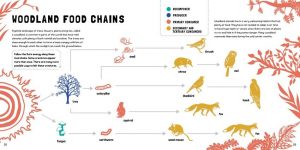 For readers interested in trying out paper cutting for themselves, Sarah teaches workshops in Bristol and across the South West. Check her website and newsletter to find upcoming dates!
To find out more about Sarah's beautiful books, visit b small publishing's website, where you can also find a free colouring sheet for ENDANGERED ANIMALS!