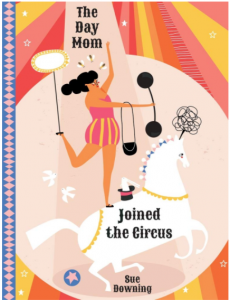 Does your home feel like a circus right now? I dedicate this review to everyone out there trying to parent through the pandemic!
In this colourful story, the children wake up to discover a note from their Mum pinned to the fridge. It says that she needs some alone time so she's decided to join the circus. She invites them to take on her share of the chores whilst she's away.
The beautiful spreads which follow perfectly illustrate the 'Mum juggle' with which we are all so familiar. On the left hand page we see the children doing a household chore and on the right hand page we see how that chore has helped make Mum a fantastic circus performer.