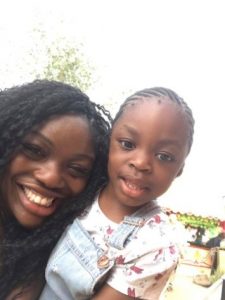 Hi Kemi! Tell us a little bit about yourself and your family
We are a family of 4, my husband and I and a 4 year old darling girl and a 6 months old ravenous boy – he loves his milk! The adjustment from 1 child to 2 children was certainly a shock to my system! I am Kemi, a children's therapist and an emotional well-being coach. We live in Barnet and absolutely love it here.
What are your children's favourite books?
The first book that sprung to mind when I saw this question was 'So Much' by Trish Cooke. 'So Much' is a lovely story about mum and baby waiting for dad's arrival and whilst they wait different members of their family arrive and engage with the baby in various funny and loving ways. Then there is a surprise at the end. This book was a firm favourite with my daughter from about 7 months until 2.5 years old, I can recite the story off by heart.