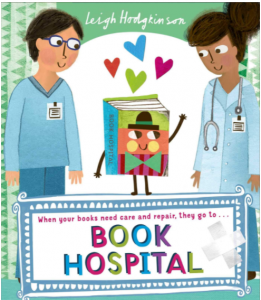 How does your child treat their books? Do they handle them with reverence or do you routinely find yourself erasing scribbles and patching up ripped spines with sellotape? When Ivy was tiny she used to like to suck on the corners of board books but fortunately these days she likes to keep her little library in pristine condition.
'Book Hospital', a brand new story from Leigh Hodgkinson, teaches children to look after their books and gives us an adorable look at what happens to them when they need some TLC.
Our protagonist is a super cute picture book who loves his life. He takes great joy in telling stories to children and is proud that he's a little bit tatty around the edges because it shows he is well-loved. Recently though he's been hearing about some books who haven't quite been so lucky. Several of his pals have ended up in Book Hospital after encounters with over-enthusiastic kids. Nibbles, scribbles and a nasty encounter with some strawberry yoghurt have resulted in them spending a few days being tended to by special doctors and nurses.
Fortunately, our little book pal has been lucky so far – but maybe he's spoken too soon! As a giant toddler arm appears and starts tearing at his pages he realises he is right in the middle of his own book emergency. Someone call an ambulance quick!
Unsurprisingly, Ivy and I are big fans of books about books and this is the perfect addition to our collection. It draws children into the magic of reading whilst also showing them why it's important to respect their belongings. It would also be a comforting read for any child about to experience a hospital visit for the first time as we see the little tomes tucked up safely in their hospital beds, being tended to lovingly by healthcare professionals before being declared healthy and heading back out into the world.
"Tell them that I love it Mummy!" – that was Ivy's response when I sat down to write this review. I love that she now fully understands what I do here and that she likes to get involved!
Buy from Bookshop.org and support independent bookshops: https://uk.bookshop.org/a/155/9781471169434
Buy from Amazon UK: https://amzn.to/2TkYIFx
Note these are affiliate links and Ivy's Library will receive a small commission if you choose to purchase through them.
Disclosure: The publisher provided us with a copy of this book in exchange for an honest review.