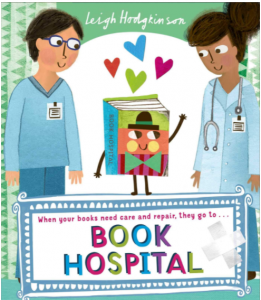 How does your child treat their books? Do they handle them with reverence or do you routinely find yourself erasing scribbles and patching up ripped spines with sellotape? When Ivy was tiny she used to like to suck on the corners of board books but fortunately these days she likes to keep her little library in pristine condition.
'Book Hospital', a brand new story from Leigh Hodgkinson, teaches children to look after their books and gives us an adorable look at what happens to them when they need some TLC.
Our protagonist is a super cute picture book who loves his life. He takes great joy in telling stories to children and is proud that he's a little bit tatty around the edges because it shows he is well-loved. Recently though he's been hearing about some books who haven't quite been so lucky. Several of his pals have ended up in Book Hospital after encounters with over-enthusiastic kids. Nibbles, scribbles and a nasty encounter with some strawberry yoghurt have resulted in them spending a few days being tended to by special doctors and nurses.