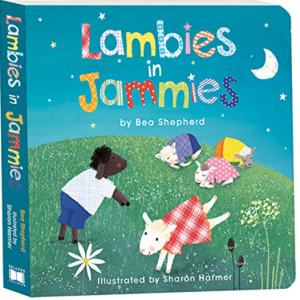 What could be more relaxing than counting sheep? This little board book teaches children the numbers 1-10 and introduces them to a calming way of settling down to sleep.
Every adorable page features little sleepy lambs, each wearing different nightwear. There are lambs in pyjamas and lambs in nightgowns. There are lambs slumbering on haystacks and lambs snoozing in hammocks. There are even lambs being sung to sleep by puppies!
Ivy enjoys counting the animals and exploring all the details on the tiny pyjamas. There's an array of different styles and she loves to pick out her favourites. She also likes trying to spot the sneaky little sheep who still have their eyes open when they should be asleep.