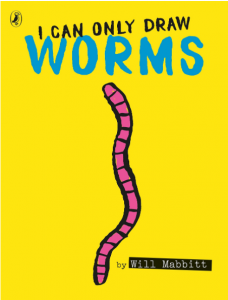 It's rare that I sit down to write a review and don't really know what to say. This book has no clear story and the only illustrations are crudely drawn worms – yet somehow it's completely brilliant and we just can't stop reading it!
So what exactly is it about I hear you ask?
Well, it's about worms.
And counting.
And counting worms.
Because the author can only draw worms.
And that is about all I can tell you! One of the worms has glasses and one of the worms gets accidentally cut in half. One of the worms even has a flying unicorn and travels to outer space – except the author can only draw worms so we have to imagine the rest…