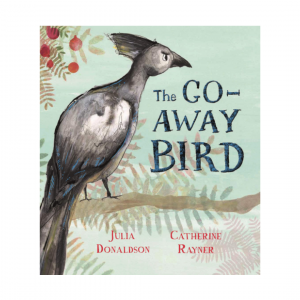 This book is a little controversial in our house as it's the first Julia Donaldson book that Ivy and I don't agree on! I personally don't think it's one of her best – but Ivy loves it so what do I know!?!
The story is about the 'Go-Away Bird' who (as you'd expect from her name…) isn't a big fan of company. She sits in her nest with a disgruntled look on her face and sends away all of the nice birds who try and make her acquaintance with a loud 'Go Away!'
She doesn't want to talk to the Chit-Chat bird, she doesn't want to share a meal with the Peck-Peck bird and she certainly doesn't want to fly with the Flip-Flap bird. But then the hungry 'Get You'bird appears and the Go-Away bird discovers that maybe she does need friends after all.