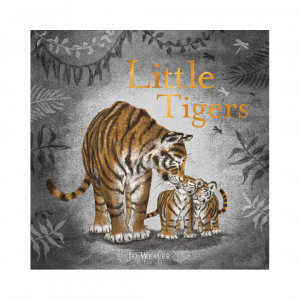 The majority of the books on our shelves feature cartoon creatures, loud colours and bouncy rhymes – because let's face it, all kids love a fun story!  However at 3.5, Ivy seems to have reached a stage where she's showing interest in books which require a little more thought (but still have lots of pictures).
This book is perfect for her as it works on two levels. The story itself is simple, but it encourages lots of questions about habitats and environmental issues.
The story follows two little tiger cubs and their mother as they move through the jungle trying to find a new home. Frightened by the sound of men and dogs the previous evening, mother tiger is determined to find somewhere safe before sundown.