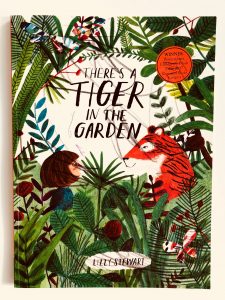 This beautifully illustrated book by Lizzy Stewart is one of Ivy's current favourites. She loves the pictures so much that she strokes the pages.
The story is about a little girl called Nora who is staying with her Grandma and announces that she is bored. Grandma sends her off in to the garden promising that if she looks hard enough she'll see the tiger that lives there, along with dragonflies the size of birds, plants that will eat you up and a polar bear!
Nora is utterly unconvinced but then she sees a dragonfly and chases it deep in to the garden. Could there really be a tiger down there too? And what will happen if she finds him?
This won the Waterstones Children's Book Prize this year and I can totally see why. It's fab!
Buy it now: http://amzn.to/2jrOlxq