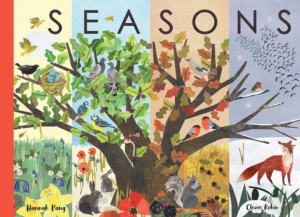 "Wow! Wow Mummy, wow!" – and that's pretty much all Ivy said the first time we flicked through this stunning book together! I have to admit she's right. It's an absolute joy to behold and is jam-packed with amazing facts about nature.
This non-fiction book takes you on a mesmerising journey around the world as we learn the effects the seasons have on different environments.
First up is the European Oak Tree which should be very familiar to your child if you live in the UK. The clever laser cut pages show us the tree at different stages throughout the year and the text introduce us to the variety of tiny creatures which call it their home.