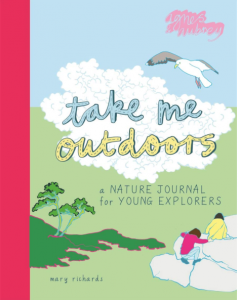 Today is Earth Day 2020, which seems like the perfect time to share this gorgeous nature journal with you.
Split in to 5 chapters, this beautifully illustrated book is designed to help kids explore the great outdoors, discover new facts about nature and preserve the memories of their adventures.
Children are encouraged to engage with their surroundings, whether they are in their own garden, at the park, on the beach or on a woodland walk. What can they see? What can they hear? What can they name? What can they imagine? What can they do to help preserve?
There are sections to write field notes and draw pictures, as well as prompts and ideas for children to craft their own stories about nature. The pages are filled with interesting and accessible facts about nature, animals, artists and explorers. It's hugely inspiring and extremely well designed. We've had lots of fun with it in the garden over the last few weeks!
Aimed at children aged 6+, Take Me Outdoors is part of a series by journal series from independant publisher agnes & aubrey. Other titles include Take Me On Holiday, Take Me To Museums and Take Me to School.
Buy it now: https://www.agnesandaubrey.com/product-page/take-me-outdoors
Disclosure: The publisher provided us with a copy of this book in exchange for an honest review.