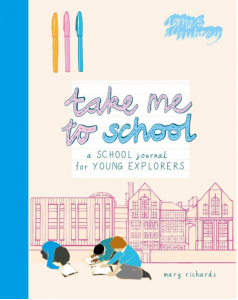 We are big fans of Agnes & Aubrey so we were really excited to receive this gorgeous school journal in the post recently.
Split in to five 'adventures' the book gives you and your child the opportunity to record their very special school journey. Each adventure breaks down different aspects of the school day and is filled with fun facts and questions for childen to consider.
What does their school day look like? What do they wear? What books are they reading? What do they eat at lunchtime? Who are their friends? Can they remember the names of everyone in their class? Who is their teacher? What does their classroom look like? There are spaces to fill in the answers to all of these questions and more, along with spaces to draw or stick in pictures.