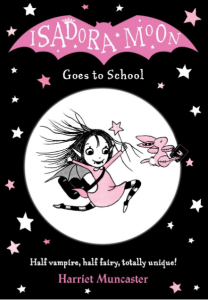 Hopefully by now you will have read my announcement from earlier this week – I am going to start reviewing Early Chapter Books alongside Board Books and Picture Books as we have recently started reading them at bedtime!
I am starting with Isadora Moon as this was the first chapter book we tried and Ivy is OBSESSED. We read the first book – Isadora Moon Goes To School – over 3 days and she loved it so much that I ordered the rest of the series.
Isadora Moon is a very special little girl. Her mum is a fairy and her dad is a vampire, which makes her a vampire fairy! She lives with her family and her very special friend Pink Rabbit.
In this first story, Isadora is ready to start school but she doesn't know which one she should attend. There are schools for vampires and schools for fairies, but there aren't any for vampire fairies!