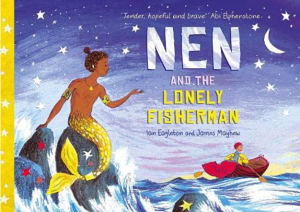 June is Pride Month in the UK – the perfect time for the publication of Nen and the Lonely Fisherman, an LGBTQ+ reimagining of The Little Mermaid.
Nen the Merman loves his ocean home but deep down he knows that something is missing. He's not quite sure what he's looking for but he starts to explore the world above the waves, singing soulfully of the yearning he feels in his heart.
One day Nen's song is heard by Ernest, a lonely fisherman, and suddenly everything clicks into place. The two quickly realise they have a very special connection and are filled with a sense of hope for the future.