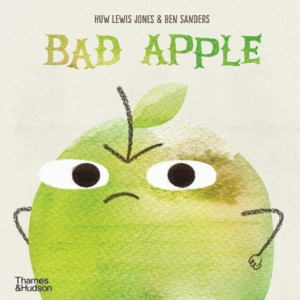 Hands up if you have a child with a dark sense of humour!
In most respects Ivy is a sensitive little soul but she loves stories which feature a shady character or an unexpected plot twist. As soon as I picked up this book – Bad Apple by Huw Lewis Jones and Ben Sanders – I knew it was going to be a hit with her.
Apple is not a very nice character. He steals Pear's chair. He drinks Pea's tea. He steals Cat's hat. He even pushes Spud in the mud. He seems to enjoy making life miserable for those around him and he shows absolutely no remorse. As we move from page to page Apple's behaviour gets worse and worse, but eventually he makes a mistake by underestimating Snake. Will he get the comeuppance he deserves?
Ivy finds this story utterly hilarious and I've probably read it to her upwards of 30 times since it arrived a few weeks ago. The text and imagery are both super simple but they work perfectly together to create an extremely compelling story. It builds really nicely, so by the time I get to the final pages Ivy is bouncing up and down in anticipation.
Humour aside, the book is also a fantastic learning tool for children who are just starting to learn to read. There are lots of three and four letter words and the rhyme scheme is strong. Ivy has made some pretty solid attempts at reading it by herself and she likes to try and guess the rhyming words from the pictures.
The story has also prompted conversations about bullying and kindness – and we've enjoyed identifying the emotions on the faces of all Apple's poor 'victims'.
Bad Apple is the first title in a new series and I can't wait to see what comes next. It has the feel of a future classic to me – like an edgier alternative to the much-loved Oi Frog and Friends books. Recommended!
Buy from Bookshop.org and support independent bookshops: https://uk.bookshop.org/a/155/9780500652435
Buy from Amazon UK: https://amzn.to/3yHggeT
Note these are affiliate links and Ivy's Library will receive a small commission if you choose to purchase through them.
Disclosure: The publisher provided us with a copy of this book in exchange for an honest review.