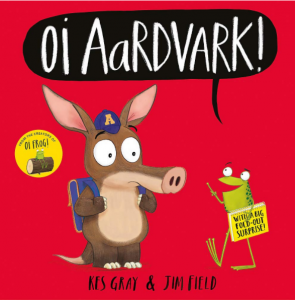 If you've been following us a while you'll know we are huge fans of the Oi Frog & Friends series from genius duo Kes Gray and Jim Field. We have all the books in the series and Ivy literally jumped for joy when the latest was delivered to our door.
A quick recap in case you've been living under a rock for the last few years and haven't encountered these joyful stories before… Frog, Cat and Dog are 3 friends with a penchant for rhyme and a slightly unhealthy preoccupation with seating arrangements. Cat started the trend in book 1 (Oi Frog!) when she insisted that frogs can only sit on logs then Frog took up the baton in book 2 (Oi Dog!) and has been a tiny bit obsessed ever since.
As we start Oi Aardvark! we discover that Frog has taken his passion to a whole new level by writing a book called 'My All-New Alphabetty Botty Book'. This mighty tome is an A-Z for all the animals he hasn't yet told where to sit. Cat and Dog write the idea off immediately. They don't think there is any chance that Frog will be able to come up with an animal for every letter of the alphabet, let alone assign each of them with a ' seat' that rhymes with their name.
They raise their sceptical eyebrows as the stubborn Frog begins to read. Aardvarks sit on cardsharks, babboons sit on balloons, crocs sit on clocks… But can he make it all way through to the letter Z?
Each time we get a new book from this series we declare it the best one yet and it's happened again! I can safely say that this one is THE best, but I think you need to have read the earlier ones to fully appreciate it.
It's so much fun to read aloud and some of the rhymes are a bit of a stretch which Ivy found hilarious. Orcas sitting on Piggy Porkers is her particular favourite and the options for X and Z made her declare that "This frog is CRAAAAAZY".
As always, Jim Field's illustrations are absolutely spot on. The animals he draws are so expressive and I love the pained looks on the faces of the ones forced to sit in uncomfortable positions!
Buy from Bookshop.org and support independent bookshops: https://uk.bookshop.org/a/155/9781444955910
Buy from Amazon UK: https://amzn.to/3bLcyWz
Disclosure: The publisher provided us with a copy of this book in exchange for an honest review.